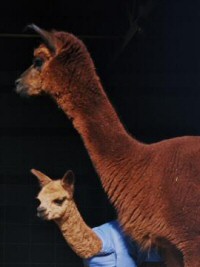 Alpaca Organizations
Alpaca Owners and Breeders Association (AOBA)
The Alpaca Registry, Inc. (ARI)
Alpaca Training
Marty McGee Bennett

Cathy Spalding


Other Alpaca Breeders
Shear Essence Alpacas
Website: web.me.com/shearessencealpacas
Email: shearessencealpacas@me.com
Phone: 952-854-4718
Contact persons: Melanie and Brad Weberg
Shear Essence Alpacas is an up-and-coming alpaca farm which currently boards its alpacas at Alpacas by the Brook. The Webergs' foundation herd consists of two true black Bolivian/Chilean female alpacas. These girls have been bred to the award-winning jet-black herdsire, Strider of the Shire, with crias due in late spring/early summer of 2009. Contact Melanie for more information and to RESERVE your cria NOW!!!
Fiber Arts Supplies and Classes
Detta's Spindle
www.dettasspindle.com dettasspindle@yahoo.com
Phone: 763-479-1612
2592 Geggen-Tina Rd, Maple Plain, MN 55359 Open by appt Mon-Sat 9am-7pm
Detta's Spindle, a home-based shop located 25 miles west of Minneapolis, Minnesota just off Highway 12, offers a large selection of spinning wheels, equipment, and fibers. You will also find supplies for felting, dyeing, knitting, and weaving. Detta offers spinning lessons, rental wheels, and will custom spin yarn from your fuzzy dog. You are invited to visit her website and to make a trip to the shop to browse and experience spinning and handspun yarn.
SAORI Free-Style Weaving Studio "FUN" ~For all ages and all abilities~
http://www.geocities.com/saoristudiofun/ chidan@chaska.net
Phone: 952-448-0527
Chaska, MN (Classes are on Saturday afternoons and by appointment during the week.)
The SA of SAORI is the first syllable of the word SAI. SAI is found in ZEN vocabulary. It means everything has its "own individual dignity." The ORI of SAORI means "to weave." Taken together, they are often translated as "Weave Thyself" or "Express yourself through weaving." We have original new style looms combined with a new approach to weaving which empowers one to artistically express oneself with a true sense of freedom and individuality without rules, restrictions or limitations.
We offer regular classes, weaving summer camps, intensive classes, instructor trainings, theme parties (birthday parties), etc.
Other Fiber Producers
Shetland and Shetland Romney Cross Sheep
Serenity Sheep Wool, fleece, roving & yarn among other fun, country things!
http://montanacountrypickins.com/pages/4/index.htm or countrypickins.com knefla@aol.com
Phone: 406-388-4500
Contact person: LaVonne
5477 Swamp Road, Belgrade, MT 59714
LaVonne lives on a 40 acre farm in Montana and raises Shetland and Shetland/Romney cross sheep. Her fleeces and processed fibers are very popular with hand spinners. Although Serenity Sheep are not covered, LaVonne receives many compliments on the cleanliness of her fleeces from both her customers and her local fiber mill. LaVonne has a strong customer base of repeat customers and a growing sheep and fiber business. LaVonne prides herself on skirting the fleeces well prior to selling them so that you do not "pay for any of the ickies".