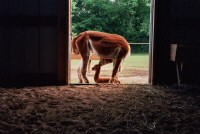 Farm Philosophy:
We consider it a privilege to own alpacas. We believe adequate shelter, optimal nutrition and basic training are necessary to allow each alpaca to achieve its full potential.

Farm History:
Alpacas by the Brook began in 1996 with the purchase of two female alpacas. With the purchase of 28 acres of pasture, woodlands, rolling hills and bluffs on the banks of Carver Creek, the home of Alpacas by the Brook was established. Since then our herd and knowledge have grown substantially. Now with a herd of more than 20 alpacas, we invite you to come for a visit.

Alpaca Training:
Goals of basic training at Alpacas by the Brook are to produce an alpaca that is both safe and pleasant. Basic training at Alpacas by the Brook includes an emphasis on mutual respect of personal space and purpose, ability to pick up feet, inspect mouth, tolerate touching of all areas of the body, halter training and leading.