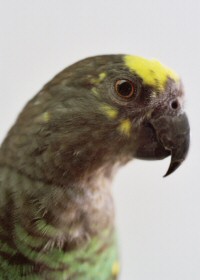 So … you say "Who in the world is Tika?"

I am a male Meyer's parrot now 14 years of age. I have been fortunate to have been raised by a knowledgeable breeder and companion owner both of whom respected and applied the philosophy of Sally Blanchard, editor of the Companion Parrot Quarterly and author of the Companion Parrot Handbook and The Beak Book. My companion owner continues to learn from the writings and seminars of Sally Blanchard, our avian veterinarian and educational seminars sponsored by Parrot Island, Burnsville, Minnesota.

Alpacas by the Brook, Inc. attempts to apply the same high standards of care and training which I have benefited from as a companion parrot to the alpacas at Alpacas by the Brook.

I will attempt to provide an annual newsletter of the essential events occurring at Alpacas by the Brook – hopefully with a little humor to add to your reading pleasure!

2006
The first annual Customers of Alpacas by the Brook, Inc Shearing Day went smoothly in addition to our regular Shearing Day. Shearing on two separate days allowed us to work shorter days and pay more attention to detail... and even finish early enough in the day to enjoy the sunshine and fine liquid refreshments which were unexpectedly provided by Andy. Further improvements were made in efficiency and the quality of the fleeces which were sheared and skirted on these two days. The outstanding teamwork and hard work of the shearing day helpers resulted in the cleanest and most completely skirted fleeces we have produced to date. In fact, Jeremiah's fleece was awarded "Best Prepared Fleece" (for the entire show) in the Shepherd's Harvest Alpaca Fleece show in mid May 2006! Jeremiah, Destiny, Frost, and Thyme participated (and continue to participate) successfully in numerous fleece shows ... bringing home several color champion, first and second place ribbons in some highly competitive shows.
Alpacas by the Brook participated in Alpaca Matters Midwest Field Days in mid October and hosted Morningside Farm and Kristin Knits for this event. The turnout was great. The most common comment heard was... "I had NO IDEA they were SO SOFT!!!" ... which was expressed by numerous guests as they were allowed to touch baby Mahogany's fleece during the guided barn tours. We look forward to another similar open house event in October 2007
....More details and photos coming soon....
2005
Shearing Day 2005 was a definite success. Both Jolene and Nikki made it home and were available to tend to the alpacas before and after the shearing table experience. Thanks to all who participated ... Roxanne, Nikki, Jolene, Julie, Lori, Lynne, Susan, Kari, Andy, Brad, Kelly, Aly, Jim, Connie, Dick, Sarah and Tom. Thanks to Sheila for a lovely custom cake.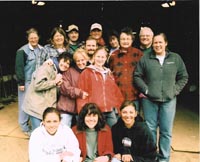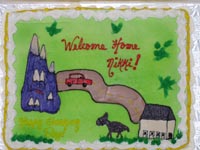 2004
Shearing Day 2004 went smoothly with the help of dear friends and the shearing table which we have found to be both convenient and safe for alpacas and alpaca handlers.